Reception & Book Signing with Richard Montañez, Executive of Multicultural Sales & Community Activation at PepsiCo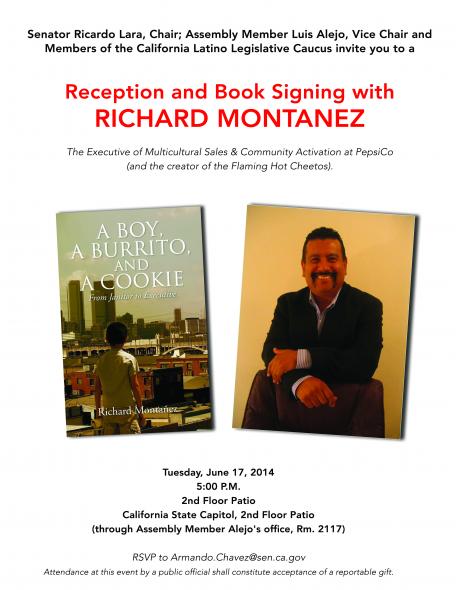 RSVP to Armando.Chavez@sen.ca.gov
More Background about Richard Montañez:
Richard Montañez did not have the road paved for him. At a young age, he began to follow his immigrant family's legacy as a hardworking manual laborer. In 1976, while working as a janitor in Rancho Cucamonga, at Frito Lay, his ingenuity sparked an idea that changed the rest of his life and which has lead him to where he is today. He added chili to flavorless Cheetos, and that idea was the birth of "Flamin' Hot Cheetos" which has now become one of Frito Lay's top selling snack.
Richard Montañez has now been an executive for over 30 years and is currently the Executive Vice President of the Multicultural Sales & Community Promotions at Pepsi Co. across the North America Division. He has used his knowledge and creativity to work with other companies such as Kentucky Fried Chicken and Taco bell to come up with multicultural products. In addition, he is also a motivational speaker, is on the board of several nonprofit organizations, and author of his own inspiring autobiography titled "A Boy, A Burrito and A Cookie."
He has taught classes at a California State Universities to young students to give them the tools to enhance their leadership skills so they can also have a path to success. His expertise in the corporate field, marketing and leadership is comparative of someone who holds a PhD.   Richard Montañez does indeed have a PhD in what he calls "poor, hungry and determined" meaning that despite his lack of formal education, his experiences and hard work helped him gain other forms of valuable knowledge.
Richard Montanez success derives from embracing his culture, his roots and being proud of being Latino. He is making history as one of the top executives in corporate world. He never forgets where he comes from and understands the economic struggle of Latinos throughout the nation which is why he gives back in any way he can.