Latino Spirit Awards
Every year, the California Latino Legislative Caucus presents the Latino Spirit Award honor to prominent Latinos in fields such as technology; journalism & media; literature; health & science; advocacy; business, education; human rights; arts; public service; entertainment; and more. Each of the honorees being recognized has made pioneering contributions in their respective fields, rising to become role models and community leaders. They serve as a reminder of the talent we have within our diverse Latino community and are a source of inspiration to all Californians.
Established in 2002, The Latino Spirit Awards take place each year at the State Capitol in Sacramento to coincide with the state's celebration of Cinco de Mayo and to recognize inspirational figures within our diverse Latino community.
2023 LATINO SPIRIT AWARD HONOREES
Below you will find brief biographies of the recipients of the 21st Annual Latino Spirit Awards.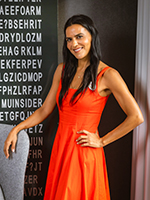 Elsa Marie Collins (Achievement in Human Rights)
Raised on both sides of the border (San Diego and Tijuana, Mexico), Elsa received her B.A. and Master's Degree from Stanford University as well as her J.D. from Columbia Law School. As a first-generation Latina and college graduate, she works hard to represent her community. Every aspect of her work is centered and focused on service to others, education, and justice. She co-founded Poderistas, which is focused on Latina civic engagement and voting, and This is About Humanity, an organization raising awareness and funds for separated and reunified families at the US/Mexico border. This is About Humanity most recently opened a relief kitchen that feeds 3000 meals a day to families and children seeking asylum. TIAH supports unaccompanied minors, families, and the LGBTQ community, inclusive of support for housing, food security, legal services, educational resources, and other basic needs.
Leer en español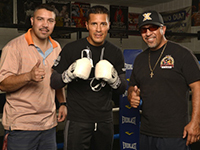 The Diaz Brothers (Achievement in Athletics)
Joel, Antonio, and Julio — the Diaz Brothers — are Mexican former professional boxers. For over 20 years, the Diaz Brothers have continuously put the Coachella Valley on the map for boxing. The Diaz Brothers come from a boxing family that produced an excellent trainer, Joel, and two world champions — Antonio and Julio — the first world champions from the Coachella Valley. Antonio is the former International Boxing Association light welterweight and WBO Latino light middleweight champion. Julio "The Kidd" is a former IBF Lightweight World Champion. Joel was the number one rated contender and mandatory to the WBC lightweight champion, but due to a detached retina that left him blind in one eye, Joel retired from boxing. Now retired from competing in the ring, the Diaz Brothers run their own Diaz Training Camp led by Joel in the Coachella Valley, training many current and future champions. Their training camp also educates and trains on self-defense techniques and combat sports.
Leer en español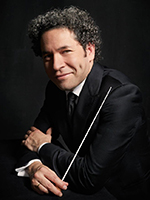 Gustavo Dudamel (Achievement in Arts & Entertainment)
Gustavo Dudamel is one of the most decorated conductors of his generation, driven by the belief that music has the power to transform lives and to change the world. He currently serves as the Music & Artistic Director of the Los Angeles Philharmonic, and Music Director of the Opéra National de Paris and Simón Bolívar Symphony Orchestra. Dudamel has introduced classical music to new audiences around the globe and has helped provide access to the arts for countless people in underserved communities. Dudamel and the Los Angeles Philharmonic initiated the Youth Orchestra of Los Angeles (YOLA) in 2007, which serves more than 1,500 musicians, providing educational support and free instruments. His performance of Mahler's Symphony No. 8 captured the 2022 Grammy for Best Choral Performance. In February 2023, The New York Philharmonic announced Dudamel as its next Music & Artistic Director designate, during the 2026–2027 season.
Leer en español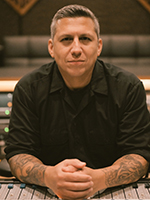 Miguel Angel Elizondo, Jr. (Achievement in Music & Entertainment)
Mike Elizondo is a Grammy Award-winning producer, songwriter, and musician who has collaborated with major artists across many genres. In addition to an 11-year partnership with Dr. Dre, Elizondo has produced songs for Eminem, Carrie Underwood, NF, Fiona Apple, 50 Cent, Keith Urban, Twenty-One Pilots, Ed Sheeran, Gary Clark Jr., and Regina Spektor. In 2016, Lin-Manuel Miranda asked him to produce three songs on the Hamilton Mixtape. His recent productions include Poppy, Madison Cunningham, Rag'n'Bone Man, Turnstile, Joy Oladokun, Jonas Brothers, and reuniting with Lin-Manuel Miranda to co-produce the music for Disney's ENCANTO, which he recently received a Grammy for Best Compilation for Visual Media. He also received a Grammy for Madison Cunningham's album Revealer, which won a Grammy for Best Folk Album.
Leer en español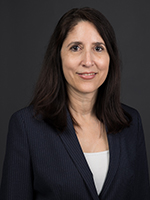 Chief Justice Patricia Guerrero (Achievement in Law & Public Service)
Chief Justice Patricia Guerrero is the 29th Chief Justice of California. She was sworn into office on January 2, 2023, making history as the first Latina to serve as California's Chief Justice. Chief Justice Guerrero was nominated to office by Governor Gavin Newsom in August 2022. When she first joined the California Supreme Court as an associate justice in March 2022, Chief Justice Guerrero was also the first Latina to serve on the state's high court. In her first State of the Judiciary address, Chief Justice Guerrero highlighted her commitment to a more diverse and inclusive judicial branch, as well as technology that helped preserve access to justice for Californians during the pandemic. Chief Justice Guerrero also adopted the Power of Democracy Civic Learning Initiative and has been active in the "Judges in the Classroom" civics program, which engages schools and encourages students to learn about the judiciary's role. Prior to being elevated to the California Supreme Court, Chief Justice Guerrero served as an associate justice at the Fourth District Court of Appeal, Division One, since December 2017. Before her appellate appointment, she served as a judge at the Superior Court of San Diego County from 2013 to 2017 and was the supervising judge of its Family Law Division in 2017. Chief Justice Guerrero is the daughter of Mexican immigrants and was born and raised in California's Imperial Valley. She attended the University of California, Berkeley as an undergraduate and earned a Juris Doctor degree from Stanford Law School.
Leer en español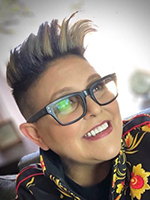 Irene M. Gutierrez (Achievement in Music & Entertainment)
Irene M. Gutierrez, "DJ Irene," is an artistic sensation and "Americas Most Loved DJ." Her music trajectory began in East L.A house parties to Circus Disco to established resident DJ at ARENA in Hollywood, CA, for 15 years, filling to 6000 capacity week after week. With 18 produced mixed albums, she is the top selling female DJ in the USA. Remixes include the likes of Lady GaGa, Madonna and a plethora of commercially successful hits, including "You're The Worst Thing For Me." She served on the Grammy Committee for Best Dance Album and Single of the year and hosted her own international TV show "No Cover" on Mun2. Raised in a broken home, going through the foster care system, and experiencing homelessness taught her resilience to propel her to overcome challenges and become an icon. DJ Irene is proud to represent the Latin@ community in her work as a Mexican-American woman traveling the world sharing her musical talents. With a Bachelor's and Master's degree in music, Irene passionately teaches college students in urban communities and continues to keep her fans dancing worldwide in the most sought-after venues.
Leer en español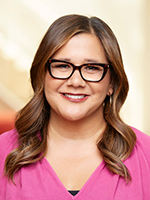 Yvett Merino (Achievement in Arts & Entertainment)
Yvett Merino is the Academy Award®-winning producer of Encanto and the first Latina to receive the Oscar® for Animated Feature. Merino first arrived at Walt Disney Animation Studios over 25 years ago and has worked in various production capacities on some of the most popular animated features of all time. Among her most recent credits, she served as production manager on the Oscar®-winning feature, Big Hero 6, and the Oscar®-nominated Moana. She launched her Disney Animation career in the Technology department and later moved into the world of Production. Merino also helped to start Voces at Disney, the Studio's first Latinx employee resource group, where she served as co-president for two years. Merino lives in southern California with her family. She holds an MBA from Loyola Marymount University and an undergraduate degree in Sociology from the University of California, Santa Barbara.
Leer en español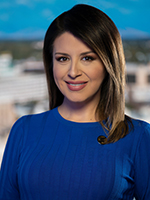 Graciela Moreno (Achievement in Journalism & Media)
Graciela Moreno is an Emmy Award-winning journalist at KFSN-ABC30 in Fresno, California. In 1997, she was the first journalist in the central valley to crossover from a Spanish-language television station to anchor the news in the market's number one English-language television station, ABC30. Moreno was 19 when she landed her first job in television as a producer at Univision's Sacramento affiliate. While working full-time, she attended college at night and graduated from California State University, Stanislaus, with a degree in Communications. Months later, she became the main evening anchor at KFTV Univision in Fresno. She has spent the last 26 years at ABC30, anchoring and covering major stories using her bilingual skills to amplify voices within the Hispanic community. The daughter of migrant farmworkers, Moreno grew up in labor camps throughout California. Although she had no money to afford books as a child, she grew up with a love for literacy and writing. To this day, she is involved with Disney's Magic of Storytelling campaign, which puts books into the hands of children in need. Moreno mentors young Latino professionals and is a frequent speaker at valley schools and adult programs, where she encourages students of all ages to set goals and pursue their academic dreams.
Leer en español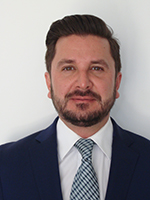 David Pérez Tejada Padilla (Achievement in Public Service)
David Pérez-Tejada has over 15 years of experience in public service, holding several positions at the local, state, and federal levels. As a Congressman representing the state of Baja California, he led economic development, climate change, and housing initiatives. In 2016, the Republic of Poland honored him with the Order of Merit for strengthening the bilateral relationship and cultural ties with Mexico. In the private sector, David has held several leadership positions in business organizations on both sides of the border, including the San Diego Regional Chamber of Commerce, from which he received the Bridge Builder Award in 2022. Dedicated to promoting the CaliBaja megaregion and enhancing international relationships, he led efforts to establish the Sister City Agreement between Mexicali and Sacramento in 2013. He currently serves as Director of Binational Affairs at the State of Baja California, where he works tirelessly to relaunch the Commission of the Californias and collaborates with stakeholders on both sides of the border to boost the regional economy and spur innovation.
Leer en español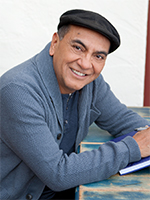 Miguel Ruiz (Achievement in Literature)
Don Miguel Ruiz is the internationally bestselling author of a series of books, including The Four Agreements -over 10 million copies sold in the US alone and translated into 46 languages. Since its release in 1997, Don Miguel has published over a dozen books, each going deeper into the wisdom that defines his unique teaching and life experience. By exploring the human mind from a shamanic and scientific perspective, Don Miguel has combined old wisdom with modern insights, creating a new message for all humankind. In 2000, Don Miguel initiated an intensive course known as Toltec Dreaming for select apprentices. These monthly workshops lasted over a decade and still inform his lectures, online classes, and published writings. Don Miguel is highly respected throughout the world. He has received numerous recognitions, including a U.S. Air Force challenge coin, engraved with The Four Agreements. He is referenced as a National Heirloom of Mexico.
Leer en español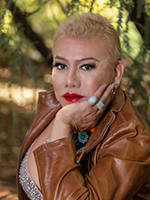 Bamby Salcedo (Achievement in Human Rights)
Bamby Salcedo is a transgender Latina activist known for her passionate and productive social, political, and economic influence. As the President and CEO of the TransLatin@ Coalition, Bamby steadily leads this nationally recognized organization that advocates for and addresses the issues of transgender Latinas throughout the United States. Bamby's wide-ranging activist work has brought visibility and given a voice to not only the trans community but to countless others whose efforts focus on critical topics that include immigration, HIV, at-risk youth, LGBTQIA+ issues, incarceration, and more. Through her dynamic leadership, Bamby has developed several organizations that have created networks and connections where there were none, including the Center for Violence Prevention & Transgender Wellness, a multimillion, multipurpose, multiservice space for Trans people in Los Angeles. Bamby is known for communicating in deeply powerful, sobering, and inspiring ways that align beautifully with her warm, down-to-earth presence. Her words and experience often summon both tears and laughter, and her life story has been the subject of two documentary films, TransVisible: Bamby Salcedo's Story and LA QueenCiañera.
Leer en español
 
Links to photo galleries of previous Latino Spirit Award celebrations:
Photo Gallery: 2023 Latino Spirit Awards (May 1, 2023)
Photo Gallery: 2022 Latino Spirit Awards (May 2, 2022)
Photo Gallery: 2021 Latino Spirit Awards (May 5, 2021)
Photo Gallery: 2019 Latino Spirit Awards (May 6, 2019)
Photo Gallery: 2018 Latino Spirit Awards (May 7, 2018)
Photo Gallery: 2017 Latino Spirit Awards (May 1, 2017)
Photo Gallery: 2016 Latino Spirit Awards (May 1-2, 2016)
Photo Gallery: 2015 Latino Spirit Awards (May 3-4, 2015)
Photo Gallery: 2014 Latino Spirit Awards (May 4-5, 2014)
Photo Gallery: 2013 Latino Spirit Awards (May 5-6, 2013)
Photo Gallery: 2001-2012 Latino Spirit Award Honorees
Links to Videos of Latino Spirit Award celebrations:
2021 Latino Spirit Awards Highlights video
2019 Latino Spirit Awards Highlights video (produced by the CA State Senate)
2019 Latino Spirit Awards highlights video (produced by the CA State Assembly)