CA Latino Legislative Caucus Announces 2023 Legislative Priorities, Launch #LatinoCaucus50 Campaign Celebrating 50 Years of Uplifting the Latino Community
The #LatinoCaucus50 year-long campaign will commemorate the impact the Caucus has made in California politics and government for five decades.
Caucus to announce its 2023 legislative priorities continuing its legacy of advancing nation-leading legislation that uplifts the Latino community.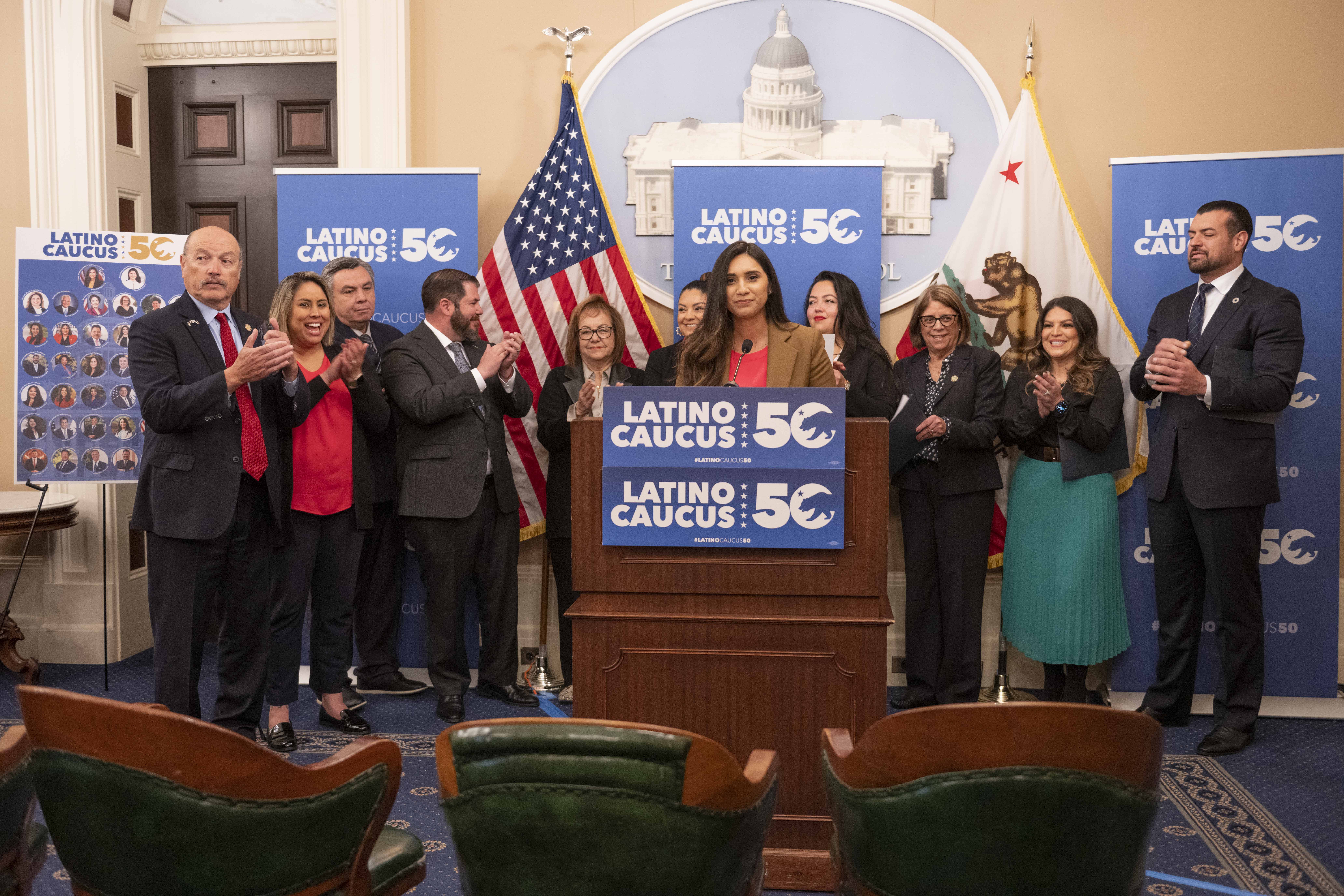 SACRAMENTO, CA – Today, the California Latino Legislative Caucus (CLLC) was proud to celebrate its 50th anniversary with the launch of the #LatinoCaucus50 campaign, marking a rich history of advancing legislation that centers and uplifts California's Latino community. Members of the Latino Caucus, the largest to-date with 35 legislative members and 3 constitutional officeholders, celebrated this major milestone by announcing its top legislative priorities this legislative session. 
"Since its founding in 1973, the Latino Caucus has been the leading voice for the Latino community, working tirelessly to advance policies and initiatives that benefit our state's growing Latino population," said Latino Caucus Chair Assemblymember Sabrina Cervantes. "From education, environmental justice, and economic opportunity to health care access and human rights, the Latino Caucus has been instrumental in promoting equity and justice for all Californians for half a century."
"The Latino Caucus has a proud history of advocating for our Latino communities," said Latino Caucus Vice-Chair Senator Lena Gonzalez. "Over the past 50 years, we have made significant strides in advancing policies that benefit Latinos and all Californians, and we will continue to fight for a more inclusive and equitable future for all."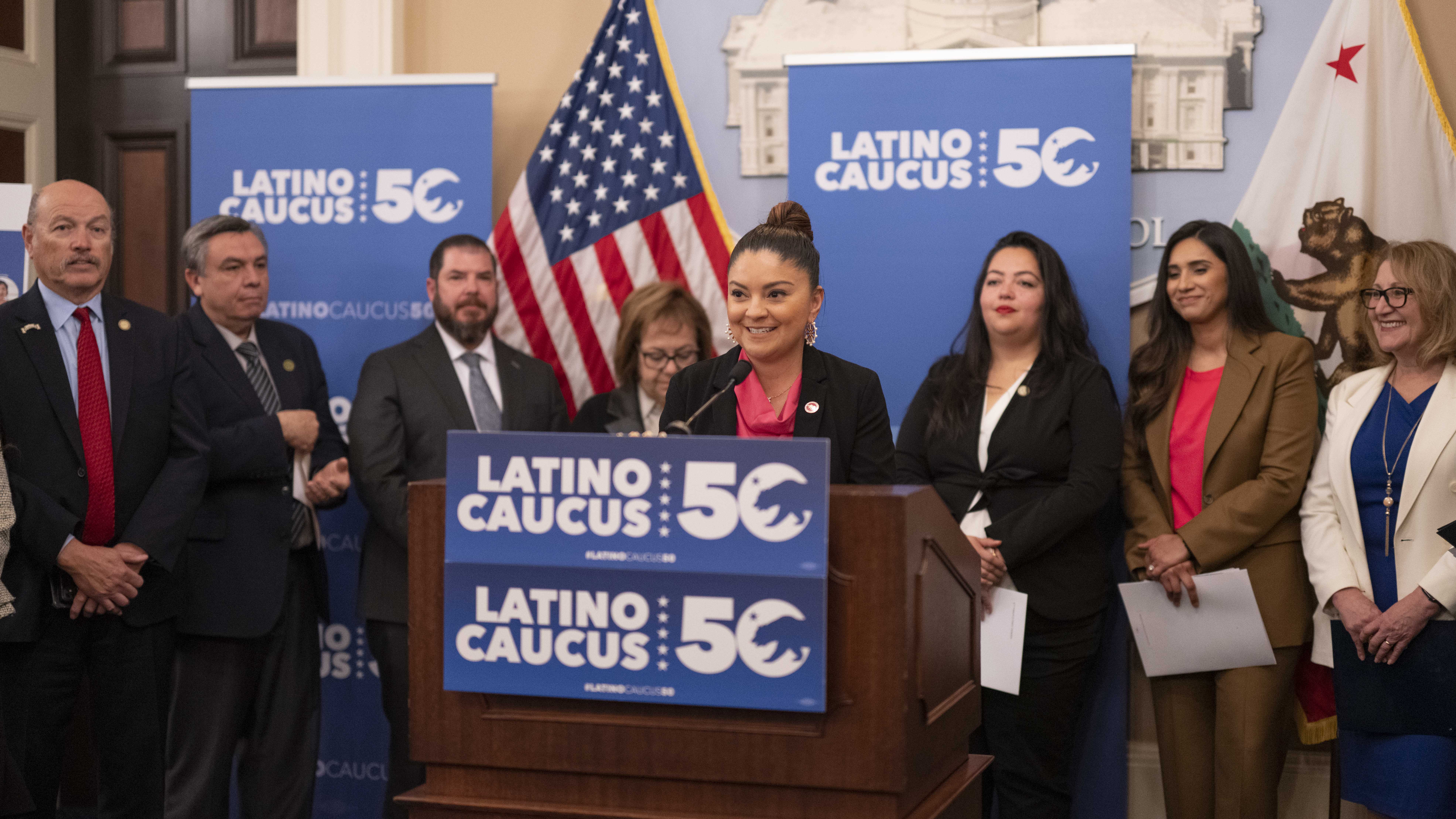 The 50th anniversary of the CLLC is a significant milestone, attesting to the tireless work and dedication of its members, past and present. Members of the Caucus have served as leaders and champions for the Latino community at the local, state, and national levels.
For 50 years, CLLC's commitment to diversity and inclusion has played a significant role in advancing a more inclusive and equitable California. With nation-leading policies, the Caucus' continued efforts to uplift and empower our state's Latino population serve as an inspiration to all.
"Today, we celebrate the legacy of the Caucus members before us, those who serve today, and recommit ourselves to continue the fight to advocate for our vast, diverse, and evolving community for generations to come. This package of bills embodies our values and supports the Latino Caucus' mission to create better opportunities for California's nearly 16 million Latinos by advancing economic and educational equity, access to health care and housing, environmental and immigrant justice, and much more," Chair Cervantes added.
Members of the Latino Caucus voted to prioritize the following 14 bills for the 2023 legislative session:
Economic Equity/Health/Housing:
Education:
Environment:
Immigration/New Americans: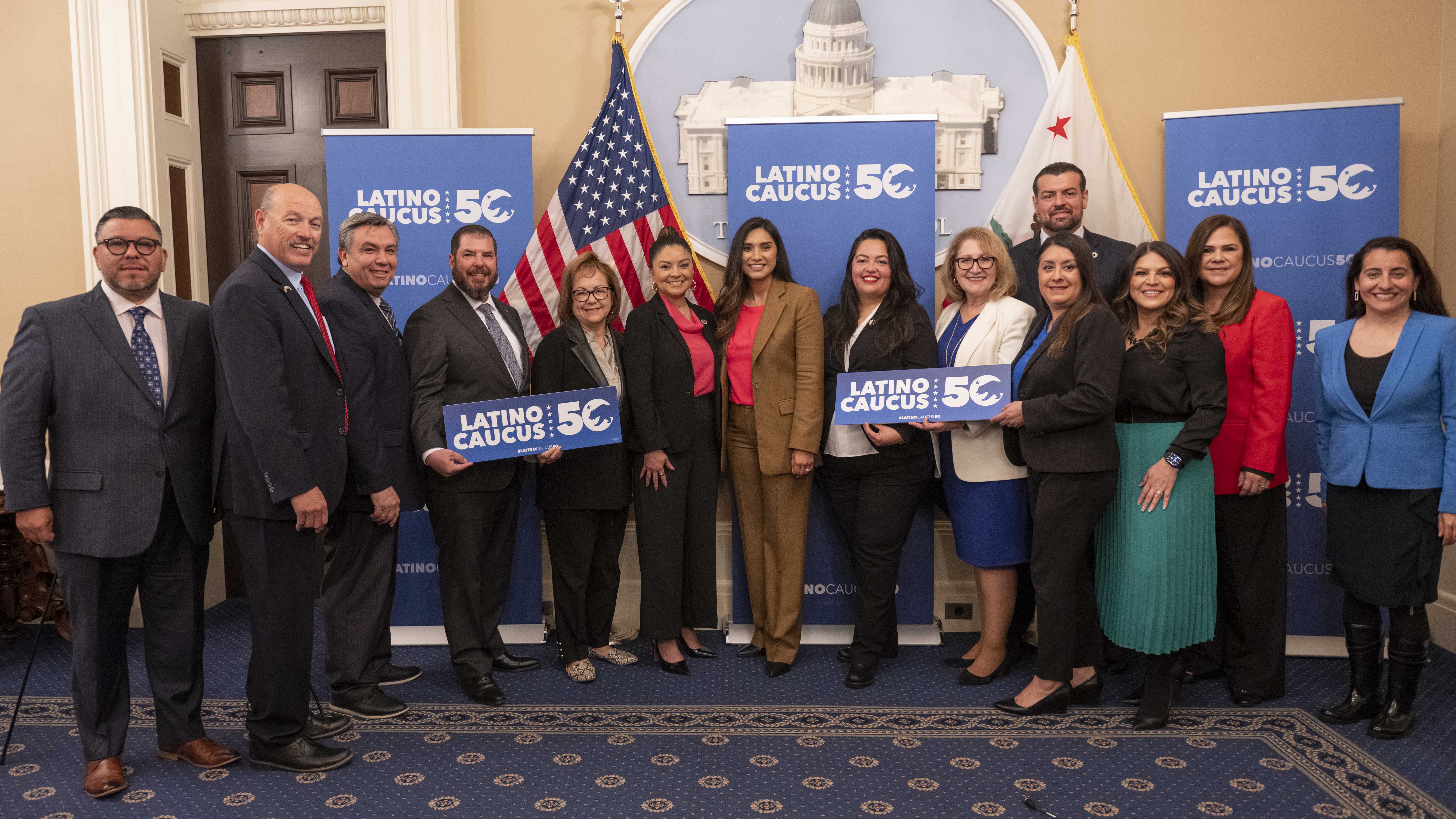 The press conference can be viewed on Facebook and YouTube. For more information about the California Latino Legislative Caucus, please visit our website at latinocaucus.legislature.ca.gov.
###
Since its creation in 1973, the California Latino Legislative Caucus has grown in number and stature. There are now a record 38 legislative members of the Caucus, including 35 legislators, 3 constitutional officeholders, and a historic majority of 21  Latina members. The Caucus boasts a rich history of empowerment, legislative and political success and serves as one of the most influential and strategic organizations in California focusing primarily on improving the quality of life for California's Latino working families.
 
---
La Bancada Latina de la Legislatura de California anunció las prioridades legislativas de 2023 y lanza la campaña #LatinoCaucus50 para celebrar los 50 años de elevar a la comunidad latina
La campaña de un año #LatinoCaucus50 conmemorará el impacto que la Bancada ha tenido en la política y el gobierno de California durante cinco décadas.
La Bancada anunció sus prioridades legislativas para 2023 que continúan con su legado de promover  legislación líder en el país que eleva a la comunidad latina.

SACRAMENTO, CA – Hoy, la Bancada Legislativa Latina de California (CLLC) se enorgullece de celebrar su 50 aniversario con el lanzamiento de la campaña #LatinoCaucus50, marcando una rica historia de avance de la legislación que centra y eleva a la comunidad latina de California. Los miembros de la Bancada Latina, la más grande hasta la fecha con 35 miembros legislativos y 3 funcionarios constitucionales, celebraron este importante hito al anunciar sus principales prioridades legislativas en esta sesión legislativa.
"Desde su fundación en 1973, la Bancada Latina ha sido la voz principal de la comunidad latina, trabajando incansablemente para promover políticas e iniciativas que beneficien a la creciente población latina de nuestro estado", dijo la asambleísta Sabrina Cervantes, presidenta de La Bancada Latina. "En la educación, la justicia ambiental y las oportunidades económicas hasta el acceso a la atención médica y los derechos humanos, la Bancada Latina legislativa  ha sido fundamental en la promoción de la equidad y la justicia para todos los californianos durante medio siglo".
"La Bancada Latina tiene una orgullosa historia de abogar por nuestra comunidades latinas", dijo la Senadora Lena González, vicepresidenta de la Bancada Latina. "Durante los últimos 50 años, hemos logrado avances significativos en el avance de políticas que benefician a los latinos y a todos los californianos, y continuaremos luchando por un futuro más inclusivo y equitativo para todos".
El 50 aniversario del CLLC es etapa importante, que atestigua el trabajo incansable y la dedicación de sus miembros, pasados ​​y presentes. Los miembros del Caucus se han desempeñado como líderes y defensores de la comunidad latina a nivel local, estatal y nacional.
Durante 50 años, el compromiso del CLLC a la diversidad y la inclusión ha desempeñado un papel importante en el avance de un California más inclusivo y equitativo. Los continuos esfuerzos de la Bancada, que lidera en nuestra nación, para elevar y empoderar a la población latina de nuestro estado sirven de inspiración para todos.
"Hoy, celebramos el legado de los miembros de la Bancada que nos precedieron, aquellos que sirven hoy, y nos volvemos a comprometer a continuar la lucha para abogar por nuestra comunidad vasta, diversa y en evolución para las generaciones futuras. Este paquete de proyectos de ley encarna nuestros valores y apoya la misión de la Bancada Latina de crear mejores oportunidades para los casi 16 millones de latinos de California mediante el avance de la equidad económica y educativa, el acceso a la atención médica y la vivienda, la justicia ambiental y de inmigrantes, y mucho más". Cervantes añadió.
Los miembros de la Bancada Latina votaron para priorizar los siguientes 14 proyectos de ley para la sesión legislativa de 2023:
Equidad Económica/Salud/Vivienda:
Educación:
Ambiente:
Inmigración/Nuevos Americanos:
La rueda de prensa se puede ver a través de Facebook y YouTube. Para obtener más información sobre el La Bancada Latina de la Legislatura de California, visite nuestro sitio web en latinocaucus.legislature.ca.gov.
###
Desde su creación en 1973, la Bancada Latina de la Legislatura de California ha crecido en número y estatura. Ahora hay un récord de 38 miembros legislativos de la Bancada, incluidos 35 legisladores, 3 titulares de cargos constitucionales y una mayoría histórica de 21 miembros latinos. La Bancada cuenta con una rica historia de empoderamiento, éxito legislativo y político y sirve como una de las organizaciones más influyentes y estratégicas de California que se enfoca principalmente en mejorar la calidad de vida de las familias trabajadoras latinas de California.
~~~~~~~~~~~~~~
 
MEDIA CONTACTS:
Cervantes: Cassandra Kester Cassandra.Kester@asm.ca.gov
Gonzalez: Leoda Valenzuela Leoda.Valenzuela@sen.ca.gov
VIEW THE PHOTO GALLERY: latinocaucus.legislature.ca.gov/photo-gallery